X-Ring, also known as quad ring seal, is a four-lip seal with a shape similar to X, so it is called X-Ring. Its performance has been improved on the basis of the o-ring and can replace most o-ring occasions. In the rubber seal industry, X-Ring is usually classified as O-Ring, and many people call it x profile o-ring or x-ring face seal.
How it functions
The quad ring seal is a double-acting seal with its elastic sealing ability. The radial or axial contact stress generated by the pre-compression during initial installation is superimposed with the system pressure to achieve the sealing function.
The superimposed sealing force increases as the system pressure increases. Under the action of pressure, the quad ring seal can transfer the pressure evenly to all sides like a fluid with high surface tension.
Materials
Same as the Rubber O-Ring Seals, the main materials of Quad-Rings are also NBR, Viton, and Silicone. Higher performance materials can be made into high-grade Aflas x-ring seals, FDA EPDM quad o-rings, and so on.
NBR is the first considering material we suggest. About 50% of quad rings in the world are made of NBR compound because of its good property and low cost.
FKM / Viton is an x-ring material with the best comprehensive performance and is widely used in various sealing equipment with high standards. It was first invented by DuPont company and issued under the trade name "Viton". With the time being, more and more people used to call this material Viton.
Silicone is more and more used in medical and food industries, especially FDA silicone. It is tasteless and non-toxic, not afraid of high temperatures, and resistant to severe cold.
Measuring Sizes
An x-ring has three sizes, ID (inside diameter), OD (outside diameter) and CS / W (cross-section / width). Normally to specify the ID and CS is enough, namely, a standard size will be given like, ID 20 x CS 2 mm.
From the right picture, you can easily know the
Outside Diameter = Inside Diameter + Cross Section * 2
OD = ID + CS*2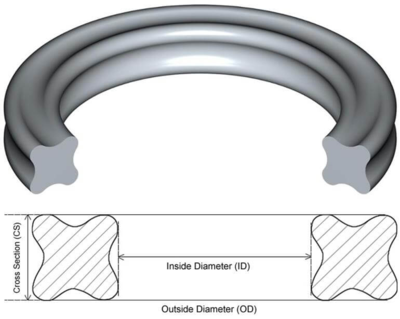 For more questions, please contact sales@polysealing.com.